cross-referenced news and research resources about
Bush administration's Iraq policy
"If any question why we died, Tell them, because our fathers lied."
Rudyard Kipling, Epitaphs of the War
"What Korea was to Truman, and Vietnam was to LBJ, Iraq will be to George W. Bush."
"Great is the guilt of an unnecessary war."
John Adams
"I don't feel abandoned," Mr Bush said on Fox News. "And what do you expect? When times are good, there\'s millions of authors of the plan. When times are bad, there\'s one author, and that would be me."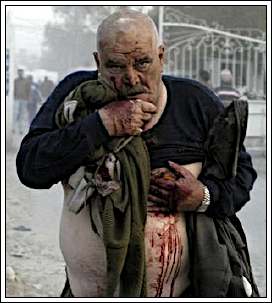 An injured man walks out from a hospital after receiving treatment in Baghdad, January 25, 2007