cross-referenced news and research resources about
Saudi Prince Alwaleed Bin Talal
Prince Alwaleed Bin Talal

Alsaud



The jet-setting prince is transforming himself into a businessman- cum-political-activist. Sure, he's still got his $10 billion stake in



Citigroup. But in Saudi Arabia this nephew of the king has called for a range of reforms: elections, women's rights and job creation. And he's publicly criticized the state-owned oil company,



Saudi Aramco. Plus, he's a vocal supporter of the U.S.—and has set up centers at universities in Cairo and Beirut to teach the American political system. On his latest spin through the U.S., in January, he met with former U.S. Presidents Carter, Clinton and Bush to talk about what he calls "narrowing the gap between the U.S. and Saudi Arabia."



"Wealth is a blessing. You know if wealth is used properly, it is not abused but rather used, there's nothing wrong with that."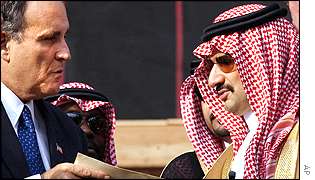 Saudi Arabia's Prince Bin Talal handed Rudolph Giuliani a $10m cheque, which the mayor later rejected